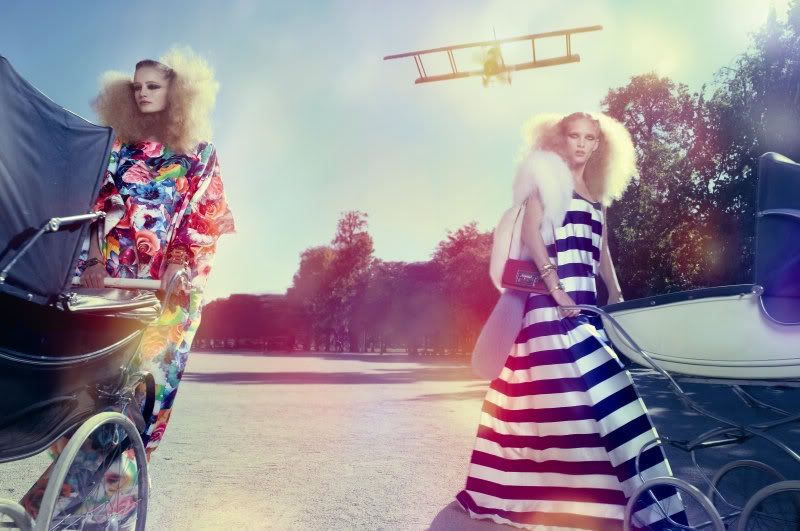 Image source: The Catwalking, Bergdorf Goodman
There's a sense in current fashion in which minimalism holds the center stage right now. It's all about a lack of fussy couture-ish embellishment, about the purity of line, about garment as an art-form, about a sense of ease and classic simplicity modernized. Whether one designer decides to follow, react against, or even redefine it, it's at the center of engagement, which defines the current language of fashion.

Along with the precise tailoring work, Jil Sander as a fashion house had always been characterized by a certain pragmatism, practicability and modesty in design. But for its S/S 2011 presentation, Raf Simons delivers a collection which shapes are definitely work against any of those values, with a strong couture reference; such a departure from the usual pure, sleek Jil Sander look.

On first impression, I think this is a collection that is likely to continue to grow on me - there is intrinsic beauty and integrity of fashion with the superb tailoring work in the pieces shown here. Some might not favor this for its lack of figure-flattering proportions, but the form and line which retain to essential simplicity, and the combination of minimalism and the voluminous silhouette which brilliantly combine couture fashion with outfits that customers can easily envision being worn definitely feels like a very fresh and smart way to channel a reinterpretation of minimalism reference.

But the biggest feat here is probably the interesting bold color palette. To repeat a palette of purity and nature (white, sand, beige, and flesh - as seen on S/S 2010 at Celine or Calvin Klein) would have been dull and repetitive and seen minimalism failing to develop and to retain interest. The interesting question is whether you can have quite this much bold bright color and still 'says' minimalism. I guess Raf achieves that here. Neon as the new natural; a minimalism that can carry a bright color, a stripe, even a print here and there. Yes, it can work. I think. A new level of minimalist fashion can be accomplished only in the hands of a designer who really gets how to deliver minimalist forms; it might take a little bit of adjusting too, but I think in the end of the day we will find Raf's collection feels increasingly 'now' and surprisingly 'right'.