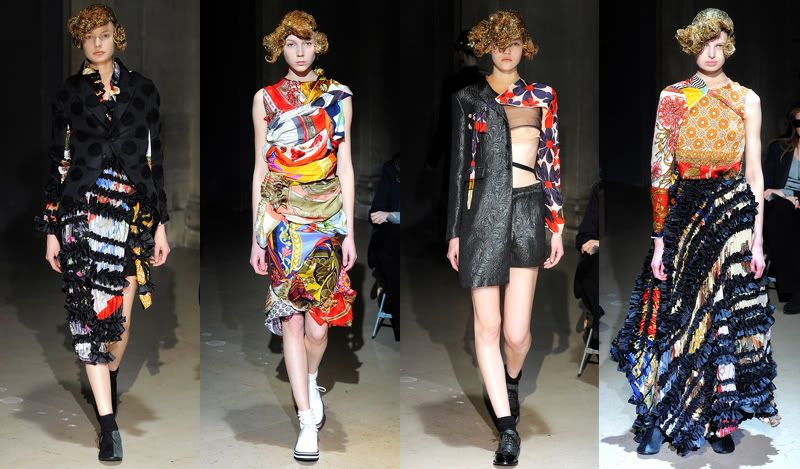 Image source: Anyonegirl, style.com
Rei Kawakubo is known for never looking back, striving for new innovation, and creating to move forward. In the past her collections spoke for ideals, challenged gender stereotypes, commented on modern Japan. Her Frankenstein tailoring work always, even when crossing the extremely thin line of bad taste (like this collection perhaps does), intrigues the mind and provokes thought like none of her contemporaries do.

Presented in a much humble presentation, her latest F/W 11.12 collection seemed to be a best of, but elevated, collection. There is much to covet in the collection: the twisting and knotting she does like nobody else, the unexpected burst of flowing gold, and the incorporation of her personal scarf collection. All that knotting, bunching, draping, deconstructing, reconstructing, pattern mixing are so harmoniously chaotic that it's pure poetry. The silhouette is still ever-so-Rei: behind the matching and mismatching of different parts of clothes was the notion of hybrid fashion. That meant half of a single-breasted jacket combined with part of a sleeve and a collar made from tying fabrics into round knots.

With Comme des Garçons, we are always confronted with the physicality of clothes–a single garment can be a maze on its own–and what they can mean. This is the kind of clothes the Fug Girls would definitely have a field day with, but in these parts we admire the humor and the skill in fashion and style that strives to not take itself too seriously. After all, in the end of the day they are just clothes… and a part of Comme des Garçons' longevity has come from being innovative and for sure statement making.