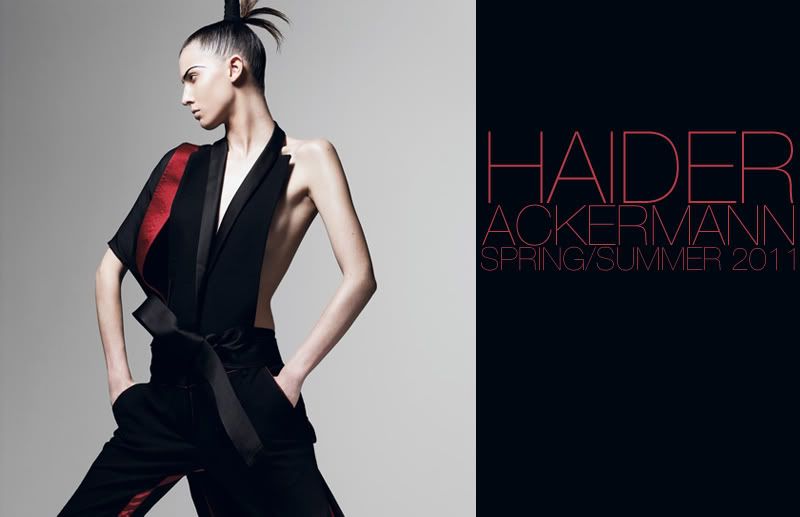 I hate to be one of those fashion bloggers that just write "LOVE LOVE LOVE" on a collection without any reason or explanation, but Haider Ackermann S/S 2011 show seriously operates at the tip-top level of fashion so much so that he's not only thrown right into the middle of it, but also he stands so far apart. It's obvious that the man knows how to cut, drape, and synthesize in the most modern of ways, and he knows precisely how to construct this sense of regal that comes through in each of these garments. It's a rollercoaster journey filled with the future, the past, the east, the west, the royal, the street... and it comes out gorgeous.

Mr. Ackermann's garments are, well, excessively sexy. Slits travel vertically from floor to crotch, and necklines plunge lower than the belly button. However I guess it takes quite an eye to be able to reveal that much skin and never have the results end up on the wrong side of sexy-ness. His styling is always a notch above the rest, and his clothing is sublimely situated between Rick Owen's hard-edged street-wear and Tom Ford's ultra-luxe evening glamour. Using his signature dark-washed leather, this season he counterbalances vibrant-colored pleated silks with a seductive gothic sensibility. Overall, there isn't a piece in the collection that could do today's woman wrong.

Haider Ackermann is the name on everyone's lips recently when it comes to moves, shifts and job role changes in the fashion industry.
With his name in many a frame right now,
like having his garment on the cover of Vogue US worn by Lady Gaga and open admiration by Karl Lagerfeld, he is undoubtedly one of the best designers fashion has to offer at the moment, and I have a strong feeling that the best is yet to come.